Providing the Ideal Candidate with Intelligent Recruitment
With the use of AI video interviewing software, a fully automated hiring process, mental aptitude testing, and pre-hire evaluations. IntRec aids multinational corporations in gaining a competitive edge in the competitive talent market.
---
The company
IntRec Inc. is a Wyoming -registered AI Recruitment software company that synthesizes Recruitment processes to provide Recruiter and Companies with intelligent and faster candidate selection on a large scale. The company offers an advance recruitment solution to support companies in need of fast hiring and reduction of turnover rates.
IntRec create an AI proprietary technology for analysing Personality and Competencies. This is the first commercially available technology. It is implemented in the recruitment process to match talent with organisation culture and team fit. Our software has the ability to process thousands of applicants within hour and score candidates.
Our software will revolutionise the recruitment and selection process in High Turnover job markets. This market includes Business Process Outsourcing (BPO), Shared Service Centres (SSC), Retail, Hospitality, Healthcare, Customer Service, Sales, and remote workers.
Our proprietary technology eliminates the need to scan through 100's of CVs, invite candidates for assessment and interviews. IntRec is fully automated. All these recruitment processes are done using AI, ML (Machine Learning), NLP (Natural Language Processing), NLU (Natural Language Understanding), Prediction technology and Mental Aptitude analysis.
IntRec has developed a powerful Recruitment solution that has transformed the way organizations attract, engage, and recruit talent.
IntRec is revolutionizing employee recruitment and selection by turning static recruitment processes into AI assisted innovative hiring method using real-time behavioural, aptitude and competency data from applicants.
Using this behavioural, aptitude and competency data allows companies to hire better and reduce bad hires and staff turnover rates.
---
Our Future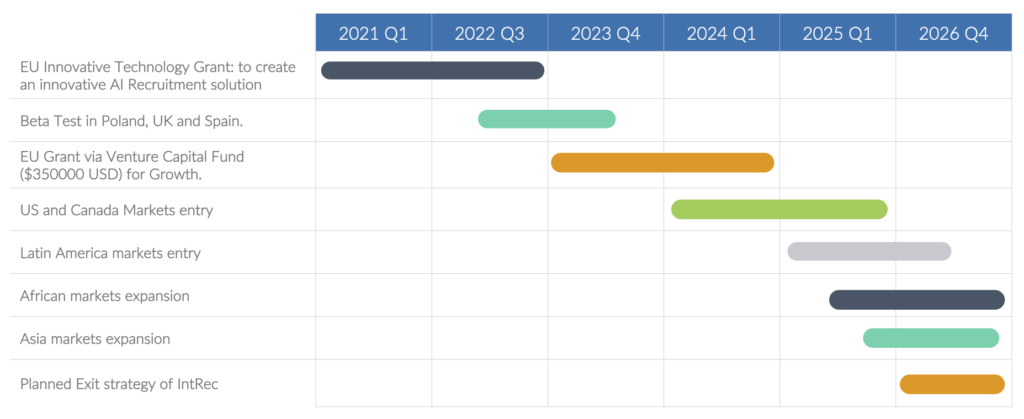 ---
Meet the team
The talent of its staff is the foundation of IntRec. Our executive leadership team and board of directors set a positive example for us and motivate us to work hard every day.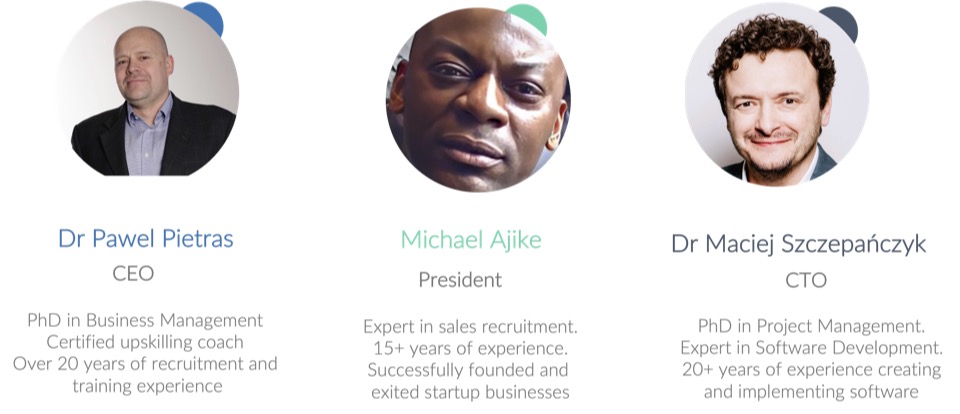 ---
AI recruitment market
The market for AI recruitment was worth US$ 619.44 million in 2021. Through the projected period, the size of the global AI recruitment market is anticipated to increase at a CAGR of 6.8%.
Overview of the AI recruitment market
The AI recruitment technique makes use of machine learning and problem-solving abilities. It is the most recent generation of software suitable for the duties delegated to the hiring department of a business. Artificial intelligence is used to enable the system to think, learn, and make decisions. It is a software program that mimics the process of assessing resumes. AI allows for the analysis of resumes created by different persons.
According to the details, it can give a CV score. Any organization may benefit from AI recruitment technology. This technology makes it simple to analyze online applications. There are many available positions in large companies. Also, there are a lot of applicants for each post. It takes time to manually check this application. However, speedy evaluation and hiring are now achievable due to AI recruitment technologies. It is a device that controls how much time businesses spend on far more crucial tasks. AI recruitment is more expensive, efficient, and reliable. With this technology, some tasks like sorting, verifying, analyzing, assessing, and finding applications are done effortlessly.
AI Recruitment Market Dynamics
Market dynamics for AI recruitment show an increase in demand for automated procedures: Due to the organization's growing need for automated methods for applicant screening and shortlisting, the use of AI in recruiting has expanded. The ability of AI recruitment technology to examine hundreds of applicants every minute reduces the likelihood of human error and improves the uniformity of the hiring process.
Market Potential
Adoption of technological advancements: The AI recruitment market has tremendous growth potential. Technology advancement is a key driver of growth. Software development never stops. New features and applications are constantly being added to software. AI recruitment software will have many new and improved features in the coming years. These new developments will pique the interest of market consumers.
---
Why become a shareholder?
Symbol of Trust
The strategy of IntRec is to expand and diversify the business by industry sectors, professional disciplines, geography, and level of focus, whether it is IntRec AI Recruitment solutions, IntRec Upskilling, or IntRec Reskilling, with the goal of becoming the leading specialist recruitment solution provider in each of our chosen markets.
Because recruitment activity is affected by economic cycles, being more diverse reduces reliance on individual businesses or markets, making the Group more resilient overall. This strategy is carried out entirely through organic growth of existing and new teams, offices, disciplines, and countries, all while maintaining a consistent team and meritocratic culture.
Our profit-sharing business model and team-based structure are scalable. Because our specialist teams are small in size, we can quickly increase our headcount to achieve growth. When market conditions tighten, the size of these teams is reduced primarily through natural attrition. As a result of the slowdown, our cost base will be reduced. We have spent years training and developing our highly capable management teams, and our goal is to keep this expertise within the Group. We typically gain market share during downturns and position our businesses for market-leading rates of growth when economic conditions improve by taking this approach.
Following this strategy means that in an economic downturn, our profitability will suffer because, in addition to the lower productivity levels that come with a slowdown, we will have spare capacity. When market conditions improve, however, the Group's profitability quickly recovers as spare capacity is utilized. Adopting this strategy during times of economic slowdown also drives our financing strategy and balance-sheet management. During periods of economic slowdown, the company has continued to generate strong cash flows as working capital requirements have decreased.
However, with uncertainty surrounding the length and depth of any economic slowdown, a strong balance sheet is essential to support businesses through tougher periods and to fund increased working capital requirements as economic conditions improve and businesses begin to grow.
Our corporate social responsibility
At IntRec, we are dedicated to making the hiring process more equitable and efficient for both candidates and employers. Whether it's a major financial institution or allowing a candidate to schedule an interview at any time. Our AI Recruitment solution expands opportunities for talented individuals to put their best foot forward when looking for a new job.
Our emphasis on Environmental, Social, and |Governance (ESG) initiatives is critical to achieving our mission. ESG programs, which were previously only associated with investing, are now a more comprehensive approach to corporate social responsibility.
Environmental factors include the resources we need, the energy we use and squander, and how they affect people.
Social: the connections we keep up and the standing we desire to uphold in our communities
Governance is the set of rules, guidelines, and methods we use to run our business, make decisions, and satisfy our stakeholders.
Governance for improved stakeholder service
Connecting talent with opportunity necessitates a tenacious focus on fairness, and as a market leader in AI-driven HR technology, we're dedicated to ongoing research on the role of artificial intelligence in hiring.
Third-party expertise augments internal knowledge, and ethical principles underpin every decision we make.
Algorithmic audits: these non-mandatory, cutting-edge audits are available in their entirety and help our team push for greater product improvements.
Investing in environmental, social, and governance (ESG) programs allows us to create products that make the hiring process more efficient and equitable for both candidates and employers. The old world of hiring was broken, and we are working hard to repair it.
---
Become a Shareholder